July 31st, 2018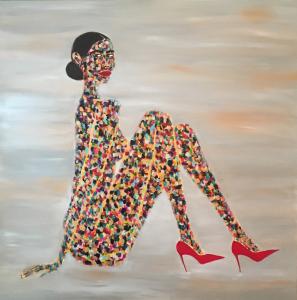 To my fellow people of color:

What does being a woman/person of color mean to you? Does it affect your day to day? How does your culture contribute to these effects?
Being a woman/person of color means embracing the cultures that make me who I am. I am biracial. I am Black & Puerto Rican. The best of both worlds - "Platanos and Collard Greens." This to me means I have soul. I have lots of passion and a lot of love.
I do not speak Spanish. A lot of times my fellow Latinos frown upon the fact that I do not speak the language and have been told, "Oh, its because she's Black she doesn't acknowledge her Latin roots." Which is not true ... it's not that deep... I simply speak the language that was spoken in my home. Take it up with my parents. I may not speak the language but I embrace the music, I enjoy the food (especially grandma's), I enjoy the passion (we're crazy)... Although I do not I speak the language, it doesn't change the simple fact that my mother is Puerto Rican; therefore, it's in my DNA.

Then there are my fellow African Americans, who often tell me, "You don't act like a Latina, but you don't look Black; you don't even look mixed." I've been told I'm having an identity crisis because I do not act the part of which I physically appear to be. To that I say I appear to be Crystal Stagg and I only know how to act as myself. I am not sure how that is suppose to look to another person.

Conversation about hair:
African American people, "oh you have good hair", Latin people "oh you have not so good hair". No, I have hair that is a combination of my parents.... I was born like this (which I think is pretty dope, don't feed into the good hair bad hair hype.)

I've been asked which do I relate to or identify with most. I absolutely hate this question simply because I am both , I relate to both, I do not need to choose, expand your mind to the idea that you can identify with more than one culture.
I feel an unexplainable connection to the Afro - Latin sounds of music, the aroma of the food, the sound of people talking very loud as if their miles apart but standing right next to each other. I like my baked mac & cheese with pernil sometimes. It feels like a warm blanket, an unexplainable comfort.

I am simply a reflection of my foundation.
​Father (Black)+ Mother (Puerto Rican)= Puerto Rican Black human being!

Can anyone relate?